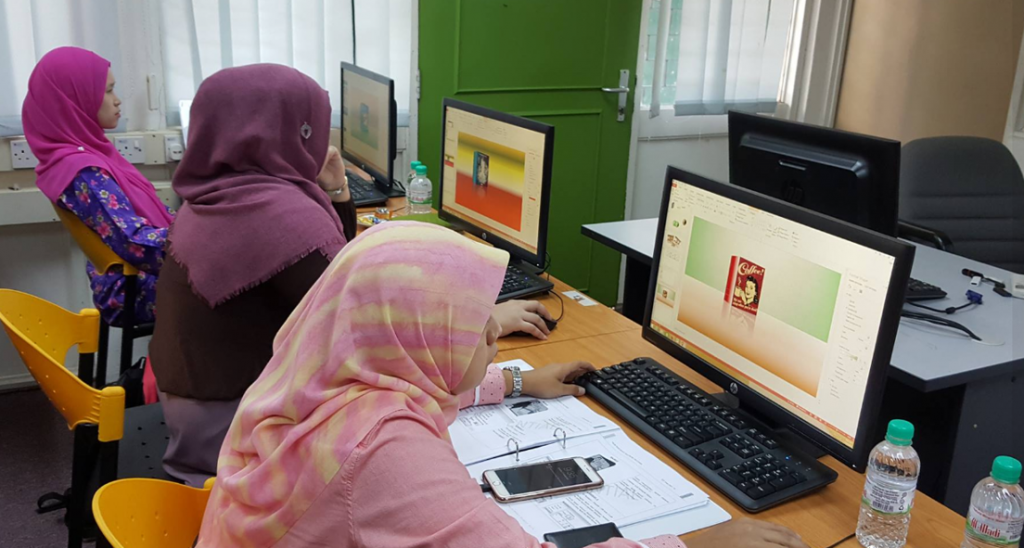 Related topic: | Montaj PowerPoint | e-Graphics | e-Poster |
This expert-level course focuses on advanced techniques for editing, 3D animation, and video montage in PowerPoint. Participants will learn to produce high-quality video content using the software's various tools and features, with a focus on efficient workflows, creative problem-solving, and professional results. The course covers advanced animation techniques, including the creation of complex animations, multi-layered animations, and custom animations. Learners will also gain expertise in video montage techniques, including the use of audio, transitions, and effects. The course is designed for individuals who want to master the art of video production in PowerPoint and take their skills to the next level.
STEP:
PREPARING SLIDE MATERIALS
It encompasses the use of colors, typography, images, and other design elements to make the slides visually appealing and effectively communicate the information. The design should be consistent, organized, and align with the overall brand identity and message being conveyed in the presentation. The goal of slide material design is to engage the audience and make the information easy to understand and remember.
CREATING ANIMATION & ADDING ELEMENTS
Consistency: The animation should be consistent with the overall design of the slide, using colors and typography that align with the material design guidelines.
Purpose: The animation should serve a clear purpose, such as drawing attention to a specific element, emphasizing a point, or adding visual interest to the slide.
Simplicity: The animation should be simple and not overpower the content of the slide.
User experience: The animation should be smooth and not cause confusion or frustration for the audience.
Adding elements in PowerPoint involves inserting and formatting various design elements, such as text boxes, images, shapes, charts, and tables, to enhance the visual appeal and effectively communicate the information on a slide. You can customize these elements by adjusting their size, color, font, and other formatting options. The goal of creating animation and adding elements in PowerPoint is to create visually appealing and effective presentations that engage the audience and effectively communicate the information.
MAKING VIDEO MONTAGE
Making a video montage in PowerPoint involves combining multiple videos into a single, seamless presentation. This can be useful for creating a compilation of video clips to showcase a product, event, or service, or to tell a story.
GROUP PRESENTATION
Specific topic or project. The purpose of a group presentation is to give the participants an opportunity to work together as a team, develop their presentation skills, and demonstrate their knowledge and understanding of the topic.
Below work activities and course activities" refers to the tasks, assignments, and projects that are undertaken during a course or training program. These activities are designed to help participants gain hands-on experience and apply the concepts and skills they have learned.
Advanced editing techniques: Learn advanced editing techniques such as formatting text boxes, working with tables, and using styles and themes.
Using 3D graphics: Learn how to create, format, and customize 3D graphics in PowerPoint, including working with 3D shapes, text, and charts.
Creating animations in 3D: Explore the creation of animations and transitions in 3D, including rotating and moving 3D objects, and animating 3D charts and graphs.
Video montage animation: Learn how to create video montage animations in PowerPoint, including combining multiple video clips, adding transitions and special effects, and customizing audio.
Advanced chart formatting: Learn advanced chart formatting techniques, including working with chart templates, customizing chart styles and colors, and creating complex charts.
Using digital images: Learn how to insert, format, and manipulate digital images in PowerPoint, including cropping, resizing, and adding special effects.
Adding media: Explore how to add video and audio to your presentations and how to format and customize media elements.
Creating interactive presentations: Discover how to create interactive presentations using hyperlinks, action buttons, and triggers.
Using templates: Learn how to use and create custom templates to ensure consistency across presentations.
Working with Master Slides: Learn how to create and format master slides to ensure consistency across your presentation.
Collaboration and sharing: Explore how to collaborate and share presentations with others, including working with team members and providing presentations online.
Using the PowerPoint API: Learn how to use the PowerPoint API to automate tasks and integrate with other applications and services.
Advanced visual design: Learn advanced visual design techniques, including working with color schemes, typography, and other design elements.