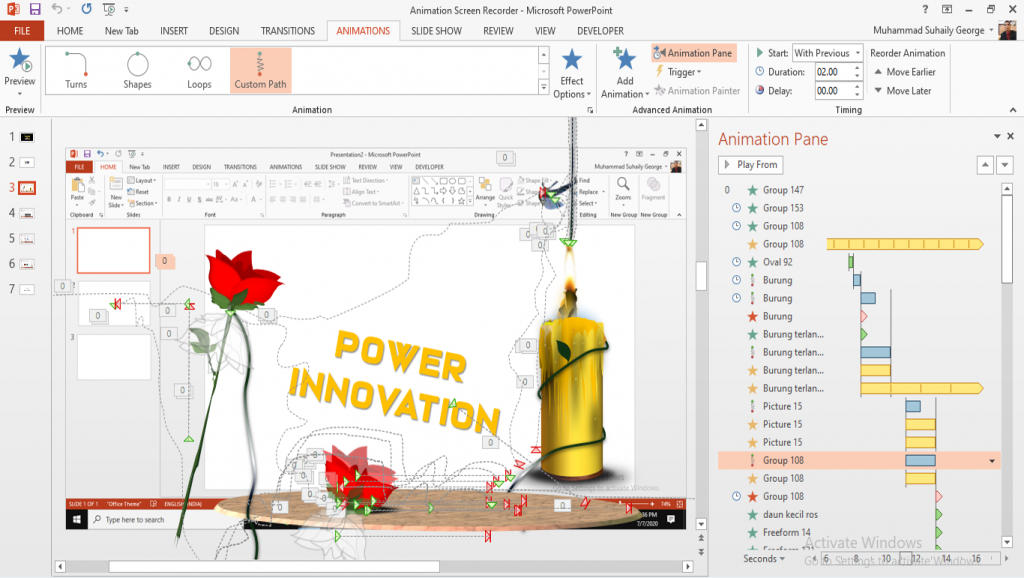 Here are some key elements you could include in a PowerPoint presentation on animation and creativity:
Introduction: Explain the purpose of the presentation, and give a brief overview of what the audience can expect to learn about animation and creativity.
The Power of Animation: Discuss the benefits of using animation in presentations, including increased engagement, enhanced storytelling, and improved communication of complex ideas.
Animation Techniques: Highlight various animation techniques, such as motion graphics, 2D and 3D animation, and stop-motion animation, and provide examples of each.
Creative Problem-Solving: Discuss how animation and creativity can be used to solve problems in unique and innovative ways.
Design and Storytelling: Emphasize the importance of design and storytelling in creating engaging and impactful presentations. Offer tips and tricks for using visual aids, such as images, charts, and graphs, to enhance the story.
Interactive Presentations: Explore the use of interactive elements, such as animations and simulations, to create more engaging and dynamic presentations.
Art and Technology: Discuss the intersection of art and technology in the field of animation, and highlight the tools and resources available to animators and creative professionals.
Conclusion: Summarize the key takeaways from the presentation and emphasize the importance of animation and creativity in effective communication and presentations. Encourage the audience to continue exploring the world of animation and creativity in their own work.