Bismillah.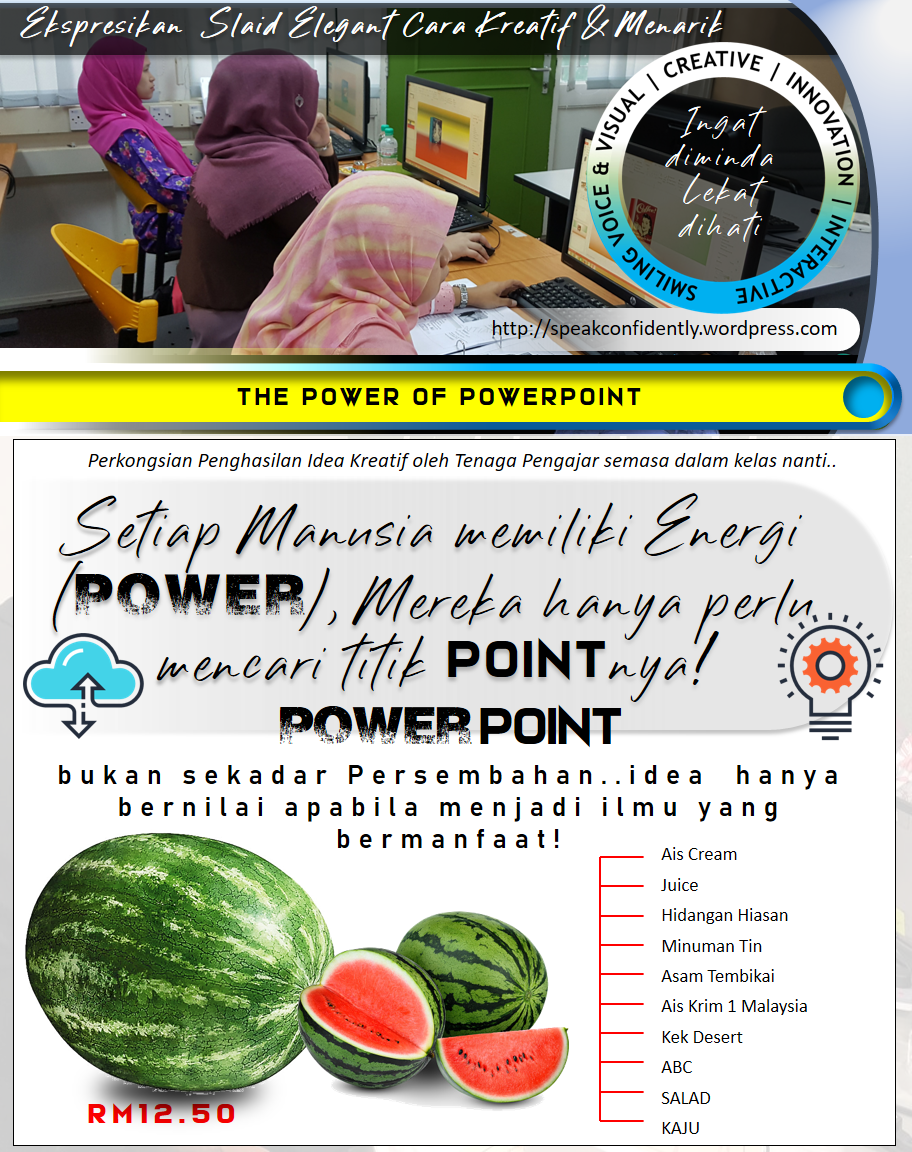 Sekali imbas apa yang tuan/puan boleh fikirkan mengenai gambar slaid yang saya sedang tayangkan?  Mengapa dan kenapa saya sentiasa kaitkan buah Tembikai yang belum dipotong/belah dan diletakkan harga setiap kali mengendalikan kursus? Baik…
Adakalanya peserta akan blur sekejap jika saya keluarkan topik Tembikai tetapi jika ada yang cepat faham dengan visual yang dipaparkan, seolah-olah mereka mahu tahu jawapan selanjutnya. Seandainya tidak ada slaid yang ditayangkan tentang Tembikai, buah ini sentiasa ada dalam hati dan saya sentiasa memberi pendekatan mengenai buah ini semasa mengendalikan kursus.
Kaedah ini tuan/puan boleh aplikasikan dalam bisnes kerana saya percaya ia seperti 'Buah Perisian' sebagai pendorong, motivasi, buah fikiran(idea) yang perlu diimplementasikan menjadi sesuatu yang bermanfaat untuk diri dan orang lain.
3 ELEMEN utama yang wajib saya buat samada mengendalikan kursus atau dalam bisnes dengan 'Buah Perisian Tembikai'. Saya percaya jika kita tahu memilih buah yang ranum dan sudah masak serta manis isinya, kita akan puas hati, rasa syukur dan orang lain juga pastinya berpuas hati seperti yang anda sedang alami.
Namun…. ada harinya langit tidak selalunya cerah, ada mendung dan hujan namun percayalah itu juga rezeki dalam bentuk yang berbeza kerana ia datangnya dari Maha  Kuasa dan sesungguhnya kita tidak seharusnya mengeluh ataupun merunggut kerana turun naik jatuh bangun itu adalah lumrah yang manusia akan hadapi. Ada perkara yang kita akan belajar dan ambil iktibar mengenainya. Hati berkata.. ini biasa.
Baik, saya terangkan 3 ELEMEN. 😊Ini adalah tahap pertama:
1. MindSet – Percaya dengan sesuatu itu boleh dilakukan. Saya percaya, jika kita mampu, mahu melakukannya, harus lakukan sampai jadi, buat sampai siap dan yakin BENDA itu boleh dilakukan. Boleh ditanam dan dituai hasilnya, In shaa Allah.
2. Strategi & Teknik – Saya percaya gabungan antara Strategi dan Teknik akan mendatangkan manfaat, teknik apabila kita belajar dan strategi apabila kita merancang, siapa sasaran samada dalam kelompok yang besar atau kecil, jauh atau dekat terpulang dengan perancangan kita.
3. Branding & Positioning – Perkara yang sangat sangat penting. Semakin kita dekat dengan-Nya semakin DIA mendekati kita. Ibarat Kita tidak mencari tetapi kita sedang dicari. Kita mencari mereka, mereka pula mencari-cari kita.
Apa pula kaitannya Buah Tembikai yang sering kali saya bawa setiap kali kursus PowerPoint? Cuba lihat gambar itu sekali lagi, apakah kaitannya dengan bisnes anda? Apa pula kaitannya dengan Produk Microsoft PowerPoint? Idea hanya bernilai apabila ia memberi manfaat kepada orang lain dan diri sendiri. Bukan bermaksud sebiji buah tembikai yang belum diproses tidak bermakna tetapi bagaimana kita mahu menjadikan buah tembikai itu menjadi elemen yang boleh memberi kepuasan dengan adanya idea, kreativiti dan berusaha dengan sungguh-sungguh untuk menjadikan ia bernilai dan mampu memberi jalan penyelesaian kepada orang lain.
Kita ambil contoh mudah, harga buah tembikai itu katakan RM12.50. Bagaimana mahu menjadikan nilainya berganda-ganda kerana saya percaya dengan 20% input yang kita guna akan menghasilkan output 80%, setuju? Jadi buatlah kepelbagaian walau anda hanya memiliki satu produk atau servis dan 'leverage' dengan kaedah rangkaian. Rangkaian tidak hanya membina perniagaan tetapi ia sebuah perhubungan antara manusia dengan manusia lain dalam istilah bahasa Inggerisnya 'Relationship Never Ends'. We are deal with Human and Positioning with Allah 100%.
Dengan sebiji tembikai berharga RM12.50 gunakan sebaik mungkin untuk melipat gandakan nilai sehingga hasilnya 80%. Tidak perlu bimbang dengan nilai 1 kerana ia akan menjadi dua dan berlipat kali ganda. Kejayaan bermula dengan tindakan pertama dan seandainya jatuh gunakan 3 perkara diatas diikuti dengan 3 ELEMEN tahap 2 dibawah.
1. MindSet – sama seperti diatas.
2. SkilSet – mesti mahir, tahu dan buat sampai jadi dan nampak hasilnya. Study – Teach – Learn – Earn.
3. ToolSet – mesti tahu alatan yang perlu digunakan. Sesuai, cara dan kaedah.
Apabila peserta mengikuti kursus PowerPoint, mereka belajar  bukan sekadar persembahan. Banyak yang mereka pelajari, kepelbagaian kaedah, teknik dan hasil yang diperolehi. Bila peserta tanya, lebih 10 tahun hanya dengan PowerPoint? Jadi setiap kali kursus saya bawa Buah Tembikai untuk mereka.
Gunakan 6 elemen sebagai pendekatan untuk menjadi lebih kreatif dan inovatif samada dalam bisnes, perkhidmatan, jualan produk atau apa sahaja.  In shaa Allah, Apa yang anda tawarkan pasti akan ada PERMINTAAN. Pokoknya PowerPoint, buahnya berbeza namun perisanya tetap rasa PowerPoint.  Dengan 6 elemen buahnya menjadi lebat dapat dituai dan dinikmati bersama dengan yang lain. Itu yang penting. Dari sebiji Tembikai, ada Ais Krim Tembikai, Salad Tembikai, Jus tembikai dan begitulah seterusnya. Dengan PowerPoint banyak yang akan peserta pelajari apabila saya pecahkan beberapa tajuk yang berbeza, muatturun modul untuk melihat perbezaannya. Klik MODUL KREATIF TERBARU  dan objektif utama kursus lebih kepada pendedahan, penggunaan alatan tool, teknik dalam  penyediaan Slaid Persembahan yang lebih kreatif dan inovatif, In shaa Allah.