Bismillah. We provide training on how to create visually appealing and professional designs in PowerPoint, with a focus on creativity and artistic expression. This can include changing the format, layout, text, images, and other elements of the presentation. It is a useful skill for individuals who need to update or make changes to an existing presentation, or who want to enhance the visual appeal of their presentations. PowerPoint editing training can teach individuals how to use the software effectively to create presentations that are well-organized, professional-looking, and visually engaging.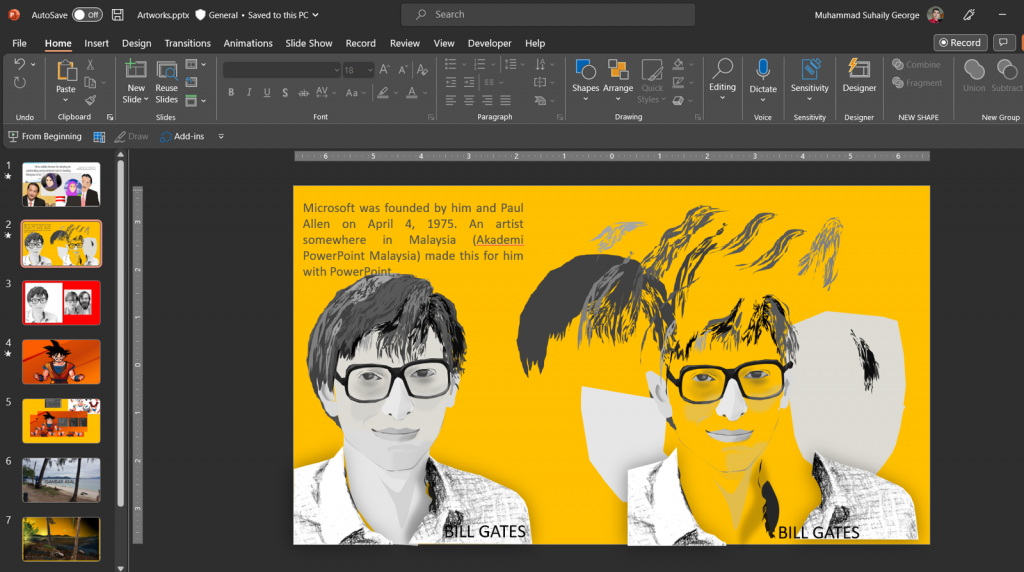 These tools allow users to make basic edits to images, such as cropping, resizing, rotating, and adjusting brightness and contrast. With PowerPoint image editing using elements, individuals can enhance the look of their images, making them more visually appealing and professional. Training in this area can teach individuals how to effectively use these tools to improve the quality of the images in their presentations.
Drawing portraits in PowerPoint refers to the process of creating a picture of a person's face or head using the drawing and image editing tools in PowerPoint. This can be done by combining basic shapes, lines, and colors to create the desired features of the face, such as the eyes, nose, mouth, and hair.
In order to draw a portrait in PowerPoint, individuals need to have some basic knowledge of using the program's drawing tools, such as the Pen and Shapes tools. This can include understanding how to use these tools to create lines, curves, and shapes, as well as how to adjust the size, color, and style of these elements.
Training in drawing portraits in PowerPoint can teach individuals how to effectively use the program's tools to create a likeness of a person's face, as well as how to adjust and fine-tune the portrait for the best visual effect. With practice and patience, individuals can become skilled at creating professional-looking portraits in PowerPoint.